Are you on our e-newletter list?  SIGN UP HERE!  Like us on facebook: 

  Join us on Nextdoor: 

Welcome to South Los Altos!
May 24, 2021: As we approach Flag Day (June 14), please take a minute to read this short article on flag etiquette, prepared for us by long-time Board Member Allen Osborn.  Thanks Allen!  (By the way---our board members are listed on our Contact page.)
April 2020: Our website has recently undergone an upgrade to make if more phone-compatible, and we are in the process of adding content.  Your patience is appreciated!
At the last general meeting in February, a new board was elected, and new updated by-laws were passed and have been submitted to the ONC (Office of Neighborhood Coordination) with the city of Albuquerque.  Shortly after that, the entire world came to a halt over the world-wide corona virus pandemic.  Many activities and goals have been put on hold.
One goal, however, is proceeding: to work on our communication with the neighborhood regarding meetings, events, and other areas of concern.  This website is one part of a multi-faceted approach to better communication.
We look forward to rebounding from the current stay-at-home restrictions and again becoming a vibrant and involved community of neighbors.  Meanwhile, check out the new website and contact us if you have any suggestions! And, please stay healthy and safe during this period!
What is SLANA?
SLANA (South Los Altos Neighborhood Association) is an independent, all-volunteer organization recognized by The City of Albuquerque Office of Neighborhood Coordination.  We are also a nonprofit corporation with the State of New Mexico and have IRS 501(c)(4) tax exempt status.
SLANA is NOT a homeowners association.  We do not impose rules or restrictions, but we do meet regularly to come up with ways to improve life in our neighborhood.
The boundaries of SLANA are:
Wyoming Blvd. to the West, Central Ave. to the South, Eubank Blvd. to the East, and Copper Ave. to the North, including physical addresses on both sides of Copper.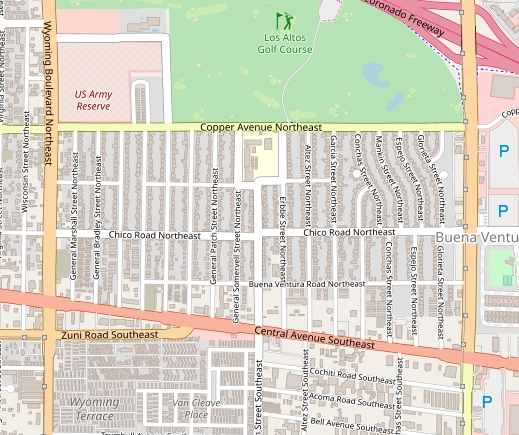 For other important legal info see our documents page.